Just a quick note to remind you that the deadline to submit your entry to the Culinary Smackdown Battle—Cookie is 3/29/2011. You still have 1 day left to submit your recipe if you haven't done so. The winner will be announced on 3/31/2011. So, don't forget to hop back here to check out the winner announcement. The prizes for this contest are:
1) Giada De Larentiis Embroidered Apron – a $15 value
2) Home brand Potholder – a $5 value
Another reminder is the
Virtual Bake Sale
to benefit the Japan earthquake victims. The auction for the bake sale will be held at
The Tomato Tart's Blog
on 3/30/2011. Please visit her blog to check out all the goodies available for the bake sale.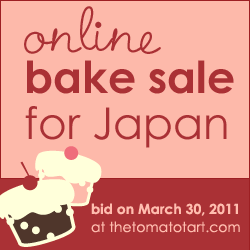 Thank you for stopping by today and have a wonderful week ahead.