WOW is exactly what came to my mind when I saw all the amazing and delicious cookie entries from
the Culinary Smackdown Battle—Cookies
! I want to thank everyone of you who participated in this contest. However, as you all know, only one person can win! It's truly hard to just pick one winner because, to me, all of you are truly talented and generous in sharing your delicious cookie recipes. All of you are winners to me. Out of 120 entries…there are quite many that stand out and make it even harder for me to pick just one winner. Before we go to the winner announcement, here's a recap on the prizes:
1) Giada De Larentiis Embroidered Apron – a $15 value
2) Home brand Potholder – a $5 value
And the winner is……
So, Tanvi, please grab the badge below and be the host for April's Culinary Smackdown Battle. Have fun and enjoy! I look forward to the theme that you're going to come up with for next month's contest.
Before we go, here are a few recipes that I selected as Honorable Mentions. They are (in random order)…
Chocolate Peanut Butter Cup Cookies
from
My Five Men
These Chocolate Peanut Butter Cup Cookies have the classic flavors combination and they are so much fun to eat! If you haven't check out
My Five Men's blog
and her recipes, you should. I really enjoy reading her blog and the little stories that she shares with us…and all her mouth watering recipes!
Apple Jacks Cookies
from
Sweet as Sugar Cookies
Picture from
Sweet as Sugar Cookies
What a creative use of Apple Jack cereal to add flavors and colors to these cookies! Lisa from
Sweet as Sugar Cookies
hosts a linky party every Saturday called Sweets for Saturdays and it's a great success. Link up your recipe and meet other foodies and bloggers for fun. You'll be glad you did. Did I tell you yet? Lisa is a really sweet person, sweet as sugar cookies! ;)
Boy oh boy, I don't think anyone can resist these Chocolate Chip Goodness! They are simply mouth watering. Samantha from
Could I Have That?
has a beautiful blog. She is talented. I love her photography and her modeling of wonderful outfits she picks each week. Her blog and recipes are fun to read.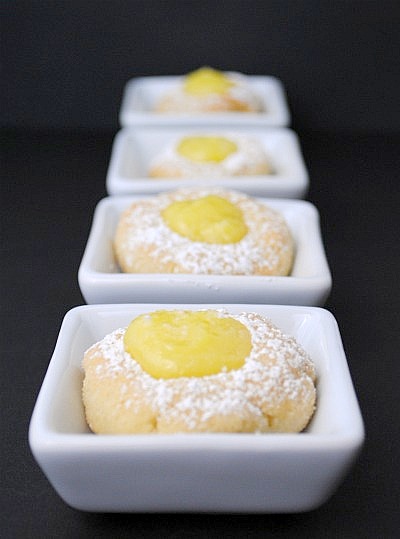 These Lemon Curd Thumbprint cookies are just too cute to eat. Each one is unique and looks like a beautiful daisy to me. Suzanne from
You Made That?
is creative and artistic. Her recipes and crafts are always amazing and beautiful. If you want your guests to ask you the same question "You made that?" because they are amazed by the wonderful products or treats you created, you've got to try Suzanne's recipes and crafting tips.
Looking at these colorful Rainbow Cookies makes me feel happy! I'm sure I'll be even more happy if I can have a few bites! If you haven't visit
Munchin Munchies
, you don't know what you've been missing out! I love her creative and beautiful recipes. They are always fun to make and fun to eat. Her munchins are super adorable too!
Thank you again for everyone who participated in this contest! Hopefully, we'll have another fun event like this real soon! :)
Thank you for stopping by and have a wonderful day you all.